USS Freedom Art
Artwork by members and friends of the sim
---
Recent Pictures:

This was inspired from a scene from the Trek sim. Here, Lott and Tarra have a little fun with Melvin, whom while desiring female companionship isn't so sure about it when it's outside the familar.
As Melvin comes from an "alternate Earth" around the year 2000, and the girls are nonhuman, would this count as an alien abduction?
PROBE HIM!
Pictures from 2005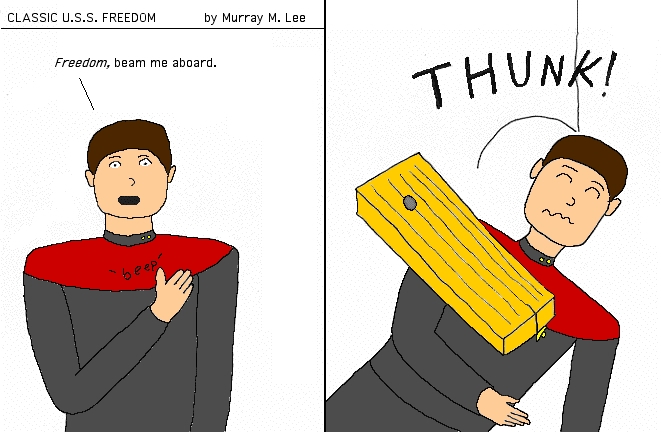 The FKA's newsletter, the "Hornet," asked for comics, so Murray Lee responded with this old joke put down on ink. Unfortunetly, the editor had computer trouble, so here it is on it's own.
More on the way to come ...
.....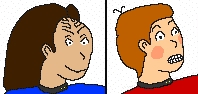 Another pic from Murray Lee. Halfpipe and Melvin finally get long-awaited artwork of their characters, albeit in a "cheeky" situation.
This might be called "putting the 'cling' in Kling-on."
.....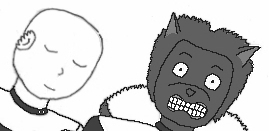 Murray Lee had been down a while due to scanner trouble, so here's his second Freedom artwork in almost a year. The first was a sequel to last year's "vampire picture," but Lera's fate was a bit, graphic, to post on the gallery.
Here, Lott wants to give Cosmo a hug. But he finds her new body a little ... constricting.
Remember the song "I've got you ... under my skin ..."? He's probably hoping he doesn't end up so literally.
.....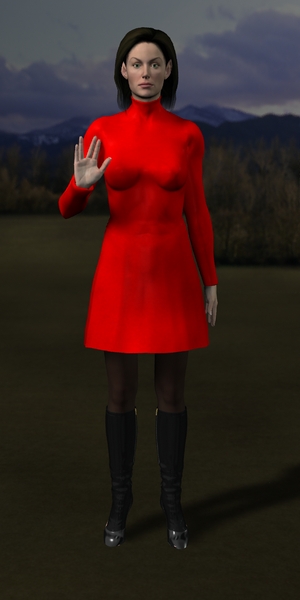 A picture of the newest officer: Vak-Surik, done by the player's friend "Gypsy."
"I never saw the logic of those short skirts."
.....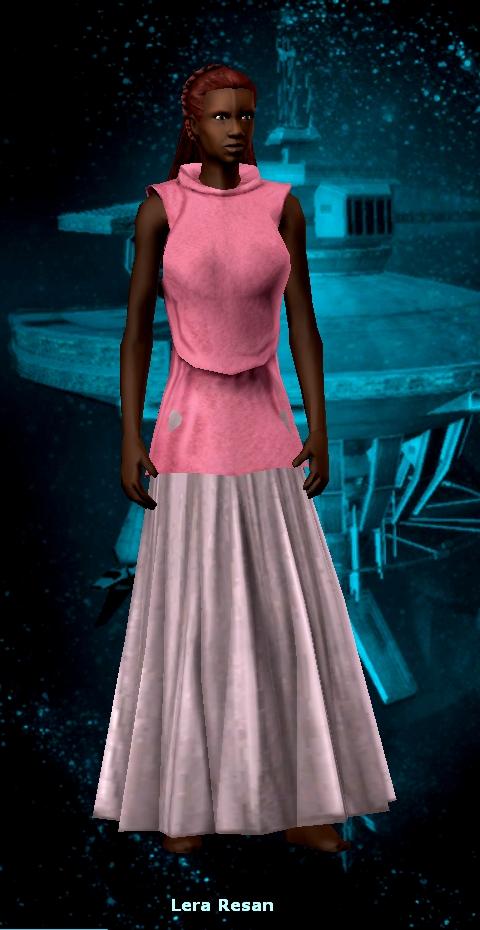 A picture from Lera of her character.
Wonder what the unusually serious expression is for?
.....
Mark Stanley, the artist behind Freefall, gave a certain starship captain a cameo apperance in his strip for March 30, 2005. Thanks again to Mark!
---
Go to the USS Freedom pictures from 2004
Go to the USS Freedom pictures from 2003
Go to the USS Freedom pictures from 2002
Go to the USS Freedom pictures from 2001
---
New artwork is always welcome, though we will only put up pictures that are at least somewhat related to the sim and have a PG-13 rating or below. Please send pictures to Sim Captain MMLee.